Tile Backsplash
At McCrorie Carpet One Floor & Home, we enjoy helping homeowners find their perfect backsplash. From modern to boho styles, we have a selection of tile that will make it tough to choose just one. With so many available options, we know that choosing just one can be overwhelming. That's why we're here to help guide you through the process of designing the backsplash you have always wanted and selecting a few tiles that show off your design personality.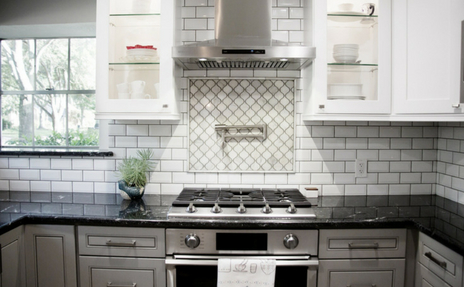 Create a Custom Backsplash
No matter what your design preferences are, tile makes it easy to create a unique backsplash, thanks to their wide variety of styles, shapes, and sizes. From small tiles that can make your space look larger, to tiles that are patterned and can be used for accents, you can design anything your heart desires. You can even get design ideas from friends and magazines and combine styles to make your kitchen or bathroom backsplash one-of-a-kind.
Durable Protection
When you think about all the time you spend in your kitchen or bathroom, think about how you envision it. If you see these areas as spaces that are stylish, yet functional, you'll be happy to know that tile is an excellent choice thanks to the protection it provides walls. Tile protects walls from spills and splatters, as well as accidents and moisture that occurs in the kitchen and bathroom. Also, tile is not prone to cracking or chipping, even when exposed to high moisture climates and rooms.
Easy Maintenance
Whether you are used to a serious cleaning regimen, or you are trying to keep your home as low maintenance as possible, tile is a great alternative to exposed walls because it is easy to maintain. Wiping off food and liquid is quick and simple, with just a cloth or sponge.
To learn more, visit McCrorie Carpet One Floor & Home in any of our three locations in Port Hadlock, Port Angeles, and Sequim, WA. We are proud to offer tile backsplashes to the North Olympic Peninsula.