Kitchen and Bath Countertops
Your kitchen is the heart of your home, where you cook, entertain and relax—and your countertops should reflect that and your personal style. The same goes with your bathroom, you spend more time in there than you think. These hardworking surfaces must suit your space, complement your style and meet your needs. Today's countertop choices are more varied and exciting than ever. McCrorie Carpet One Floor & Home in Sequim, Port Hadlock & Port Angeles is more than just your local flooring source, we also offer kitchen and bathroom products like countertops. Countertops are more than an accessory to your kitchen or bathroom. They are also a functional open storage space. Thank about it, in your bathroom you keep hand soap and toothbrushes out for easy access, and in your kitchen you usually leave the toaster and coffee maker out.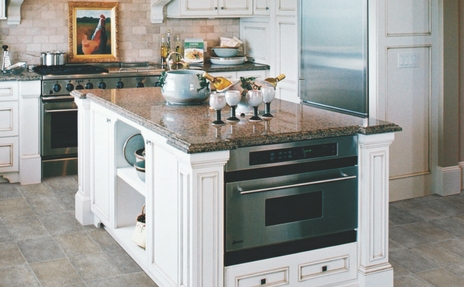 Choosing a Countertop
When choosing a new countertop, you should put function first. Because every household is different, you won't find a one-size-fits-all countertop. Are you an enthusiastic chef who cooks five nights a week? Do you host parties at the bar area or serve family dinners around the island? Do your kids spill orange juice and smear peanut butter around most mornings? Rank the importance of needs such as durability, stain resistance and ease of maintenance.
Colors and trends come and go like the seasons, but most countertops stay in place for 15 to 20 years or more. Think twice before specifying that bright blue top or something completely out of your style comfort-zone. To stay safe, the most common and trendy countertop options continue to be natural colored granite and quartz. Other countertop materials include solid-surface materials, ceramic tile, laminates, wood, and even polished concrete.
Stone Countertops
Stone countertops are available in many different options like granite, marble, and limestone. Most stone counters feature a high gloss polished finish that magnifies the natural beauty of the stone. These counters typically are fairly durable and stain resistant. Yet some materials may be more prone to staining and structural problems than others.
Quartz Countertops
Quartz countertops are usually 95% Quartz crystals that are bonded together with strong resin. Quartz counter tops are very stain, heat and scratch resistant. Also, it is a very hard material to scratch and hot pans can be placed right onto the surface. Quartz counter tops give a Granite-like counter top without any of the granite maintenance.
To learn more, visit McCrorie Carpet One Floor & Home in any of our three locations in Port Hadlock, Port Angeles, and Sequim, WA. We are proud to offer countertops to the North Olympic Peninsula.