About Stone Countertops
Stone countertops such as granite are made from 100% granite and nothing else. As a result, these countertops offer rich, natural beauty that will certainly add style to any kitchen or bathroom design. Other stone countertops include marble and limestone. Each granite countertop is one-of-a-kind, since there are no two pieces of granite are exactly alike. What does this mean? This means that your new kitchen countertop, and subsequently your kitchen design, is truly unique.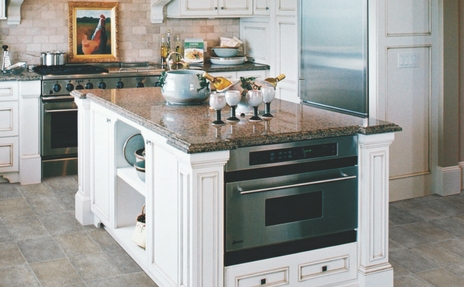 For the most part, the surfaces of stone countertops are smooth and glossy. They remain cool to the touch, and they are difficult to crack. However, the surfaces do need to be sealed to protect against stains, and we do recommend keeping the surfaces clean and free from dirt and dust. Nonetheless, stone continues to be a really popular choice for kitchen countertops.
Granite Countertops
Granite is definitely the most highly sought-after stone countertop option. Granite countertops combine natural style with premium strength, so they are suitable for most kitchen settings. Granite can be sealed to protect against spills and stains, and it can naturally handle heat.
Visit McCrorie Carpet One Floor & Home in Port Angeles, Port Hadlock, or Sequim to learn more about countertops. We are proud to offer countertops to the North Olympic Peninsula.